We at Olds Mountain View Dodge Chrysler Dodge Jeep Ram take a lot of pride in supporting our community through charities, community events, and fundraising drives. We live work and play here, just like you! We are privileged to share the latest news, promotions, and community events here with you!




We love to promote our community and the people in it. If you would like us to add something here please email carli@mountainviewdodge.com with the subject Community Page Addition.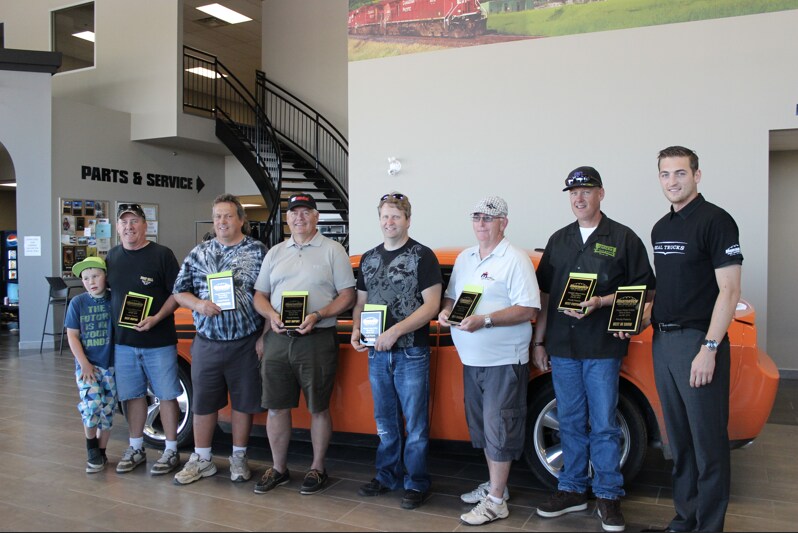 Mountain View Dodge would like to congratulate the winners of our 2014 Inaugural Mopar's and More Show and Shine event!
Lance Quince with his '71 Challenger, Brian Durstling with his '68 Plymouth Roadrunner,  Leon Durand with his '86 Porsche 944, Trevor Crews with his 2010 Dodge Ram 1500 "Little Red Express", Brad Richmond with his '79 Dodge 150 half ton Adventurer, Bruce Campbell with his GMC COE and General Manager Ryan Baum standing in for Bob Steele with his '70 Dart Swinger.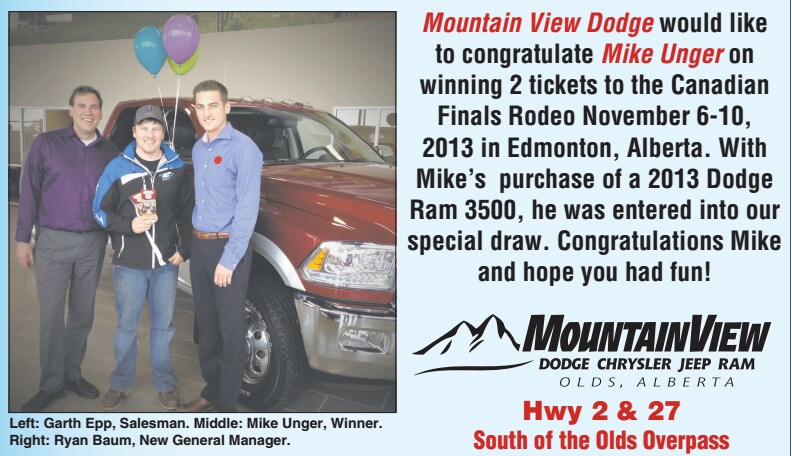 Olds Hospital Foundation
The Olds Hospital Foundation is raising funds to replace some hospital beds. In fact, some beds are as old as 50 years. During the months of April to June, Olds Dodge teamed up with Hildebrand motors (GM) and Cam Clarke Ford to raise $42,500.00. Olds Dodge raised $18,100.00 of that total by donating a portion of each vehicle sold.
Christmas Angels
The Christmas Angels are local non-profit organization who helps people in need during the Christmas season. In each of the last 5 years we have donated substantial Cash to help the needy.

Olds Food Bank
The local food bank needs help throughout the year. Every year Olds Dodge and its employees give generously to help the less fortunate!


Olds Grizzly's Junior 'A' Hockey Club
Olds Dodge is also a sponsor of our local junior hockey team - The Olds Grizzly's. The 'griz" is a very talented team with some members making their way into the NHL. The most notable is former NHL defenseman Kevin Haller.
Sundre Rodeo
Sundre is a great neighboring community. We have many customers in this area and are privileged to be a major supporter of the Sundre pro rodeo. For the last 5 years we been a major supporter of the Sundre Pro Rodeo!

Golf Tournaments
We also support and sponsor many golf tournaments including:
Olds oilman's golf tournament
Olds rotary club tournament
Olds farmer's golf tournament
Alberta Special Olympics golf tournament
Curling Bonspeils
We support many curling bonspiels throughout the winter