Leah and Kevin Edwards have owned and operated Inkkers Copy Right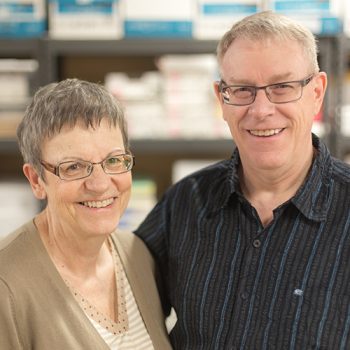 in Three Hills for over 25 years. 
Kevin and Leah have two grown children, Richard and Lori, who attended Three Hills School from K-12. After going to post-secondary in Calgary and Red Deer, Richard and Lori returned to Three Hills and are raising their own families here - five grandchildren! - with spouses Angela (Richard) and Greg (Lori).
Kevin and Leah believe in supporting their community through personal volunteerism and through their business operations. They are loyal and enthusiastic supporters of our community initiatives here at Mountain View Dodge and we are sincerely grateful for their friendship and the heartfelt work they do for Mountain View County! This area of the province is certainly better for their contributions and innovative business ideas, which serve to galvanize communities and eliminate barriers to access of community news and opportunities. 
They recently ventured into social media with Hubbub, which gives local businesses and groups an even better return on their social media investment by giving them a larger local audience, including the many people who don't use social media. They invite you to visit 
hubbub.ca
 for more info.